Shoot Date: June 18, 2006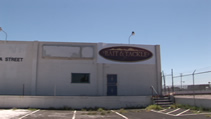 Shortly after we finished filming the Haunted Building, the creepy interior of StraightCollegeMen.com's new 10,000 square foot home was demolished in anticipation of things to come. I thought it would be fun to kick off the construction (or demolition as it were) with an introduction to Bait & Tackle™, the new Nevada based company that now owns the SCM brand. And so, what better way to kick off the launch of company called Bait & Tackle than a fishing trip? <G>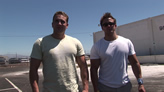 Starting at the newly gutted building though, Rocky and Dean are outside in the parking lot.
"A while back, Dean and Brett did a little horror movie inside our new location here."
"A horror movie?" Rocky asked.
"Yeah, a horror movie."
"So, now, uh, it's sorta complicated, but anyway, StraightCollegeMen.com is now owned by Bait & Tackle."

I continued talking then finished by saying that I wanted, "to go in there and see, uh, see what it looks like since the horror movie. It's a little bit different."
Entering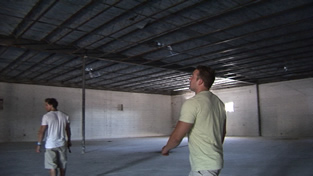 the structure that once contained numerous dilapidated scary rooms, including one where Dean "got murdered," we found an open warehouse with 14 foot ceilings.
The sound echoed each word as we took in the space.
"Damn... this place is huge," Rocky remarked.
Indeed, a hundred feet in each direction made the place seem cavernous. Tens of thousands of dollars in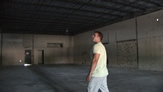 architectural fees, though, had given me a good idea of what it would all look like in the end. "It's gonna have a bunch of different shooting areas, offices, edit rooms. We're going big time now."
Numerous hurdles still had to be jumped with the city, but it was heading in the right direction. With the space in place, though, with the "ground breaking" of sorts, it was time to christen the Bait & Tackle brand with a shoot.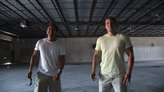 "So, since the theme is Bait & Tackle,
today you guys are going to go fishing."
"I fuckin' knew it man," Dean replied.
"That's awesome," Rocky added.
The guys adulated a little more about the impending adventure then we headed back outside. Before getting in the company's car, though, we got back to Dean's. I figured it was worth pointing out just how much "straight guys doing not so straight things™" actually get paid to cross that line.
"And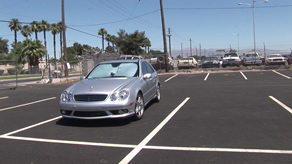 lest anyone think Dean doesn't get paid well for doing all this not-so-straight-things, this is his, his Mercedes over here."
"No, no, no. It's not just any Mercedes," he interjected.
"We can do it right. Let's do it right. OK. Alright, let's go to the side here. OK. You have to see that the AMG wheels. That's a race version of Mercedes-Benz.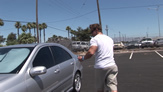 OK."
"And you come back here, you actually have to see it's not just any Mercedes-Benz. It's a C55 AMG."
"OK," I said in a tone which revealed me having virtually no appreciation for high end cars.
Rocky interrupted our viewing of Dean's car to show us his.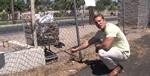 "Matt, Matt. You wanna see my car? It's a little bit more high tech than his. Follow me."
"We got a high, super high class Sav-On shopping cart," he joked. "As you can see, the emblem printed in the wheel. You got the bars in the front and the stainless steel grips in there in the back. So, I got something on Dean." <g>
"The neighborhood here is a little... we need to, we're gonna do some work here on the outside, but it's coming, so..."

I then found Dean text messaging his girlfriend. I ribbed him about being unable to focus for five minutes on the video we were shooting, then we headed out.
In the company car on the way to the water, I started the camera again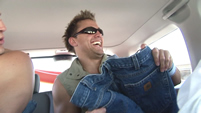 as the guys were getting dressed in their fishermen shirts then did a quick pube check. Of course, Dean's version of having pubes was almost non-existent in the real world. <g>
We spent a few more minutes talking about an upcoming company trip and about Rocky borrowing a cell phone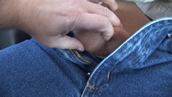 charger from an Asian man at the airport. Stereotypes abounded, and Dean & Rocky flashed their cocks for the camera once again. I, of course, had to give Rocky's a grab... a few times. <g>
Then a few minutes later, we were at the water and got into the boat...
But to see that, you'll have to watch the video. --

Actually you'll first see Rocky and Dean in the water as they jumped overboard before I began filming once we were onboard.
And hey, 50 minutes of water fun awaits! <g>

And, of course, it wouldn't be an SCM video if it didn't contain a little of this, too, now would it?

Dean and Rocky... ass eating, dick sucking, and cum swallowing.

Damn. I love my muscular-straight-guys-getting-it-on-on-a-boat job! <g>