A couple months ago, I knew the anniversary of the site was coming up. A year into the making, things had grown considerably, and quite simply, you coming here, checking out the site, and telling your friends were responsible for that. So I wanted to celebrate... and I wanted to have it be something that was fun for both of us, not just a little party with my friends. Before long, I'd devised a plan. 5 guys in a cabin for a "slumber party" weekend. <g>
I figured the time together would get them to relax around each other and around the camera... and well, five naked straight guys running around in a log cabin for a weekend. Hello?!! <G> Do I really need to explain why I thought that would be something worthwhile?! <G> I mean, I knew I could come up with something for them to do. <G>
So I called, coordinated schedules, and started laying the groundwork. I secured the cabin, planned out the activities, and started pulling together who would be attending. -- I needed a mix: hardcore straight, like Michael, a couple slightly more open minded guys, like Damon and Brett, and at least one guy who was open to pretty much whatever I came up with, like Lucca. Add in Ryan, who'd only done a solo shoot, for a little more apprehension, and Jon, who'd been pretty open with the addition of 151 rum, and... YOU'VE GOT ONE HECKUVA SLUMBER PARTY! <g>

So a few weeks pass and the weekend of the site's anniversary arrives. We all meet up at my place at 7PM that Friday night then head to the cabin in two separate cars. Damon, Michael, Ryan, and Jon leave in one. I want to keep Brett and my boyfriend with me, and Lucca's girls (or "bitches", as you'll come to know them) took his car, so we had to pick him up on the way.
By the time we got to the town where the cabin was, the boys in the other car were in the bar, cruising the local girls. I pulled 'em out, grabbed some random junk food at a gas station to tide them over until the morning, and then the eight of us arrived at the cabin, in the rain.
A few minutes later, the camera started rolling... <G>
Watching porn while playing a game of strip poker...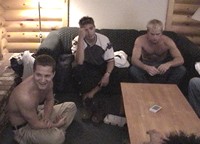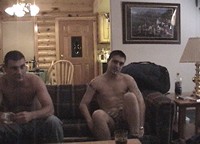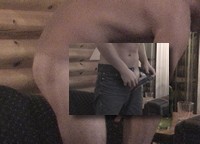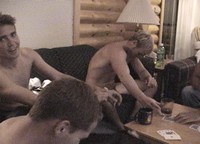 Jumping in the hot tub naked (myself included), in the freezing wind and rain...

Giving Brett a "helping hand" for a "solo" video...

Quickies by Ryan...
And Damon...
And Lucca...
And then, well, I don't want to spoil it for ya, but imagine if you had six sleeping straight boys at your disposal, knowing that you could basically do whatever because you told 'em to expect it.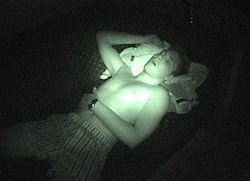 I mean, I told them to expect the camera to be going all the time, and that anything could happen. So I figured it should... even if it was 5 in the morning and I was zombie-brain tired! <g>
75 minutes of fun... and that's just from a few hours on Day One. <G>
There's still all of the next day for things to happen, too (and a few hints here and there on this video as to what WILL happen)... and there's even the morning of day three. But you can ONLY see everything if you're a full fledged member: a trial account won't last long enough to see it all. <g>
So watch the preview, remember that you've been a good boy, and sign up. Santa would approve... or at least understand. <G>
Damn. I love my lots-of-work-corraling-straight-boys-but-did-you-see-that-part-with-Brett! job. -- I mean, seriously. Did you see it? DAMN! <G>